We use the symbol ° for degrees. A half circle of rotation is 180° and a quarter circle 90° and so on. Can you calculate the number of degrees in 1/3 of a rotation? Here is how to think about it. We know that ...
1 rotation = 360°
so if we divide each side of that equation by 3 we get that
1/3 rotation = 360°/3=120°.

4. Below you are given fractions (parts) of a rotation. Calculate the measure of the angle in degrees. Always try first and ask for help if you need it!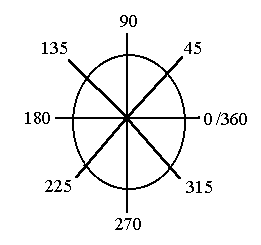 A full rotation is a full turn around the circle. Fill in the boxes below.
1 full rotation is 360°
1/2 rotation is 180°
1/3 rotation
2/3 rotation
1/4 rotation
3/4 rotation
1/6 rotation
5/6 rotation
---
Links to visit! Click on the links and find out more about angles and degrees!

http://library.thinkquest.org/2647/geometry/angle/measure.htm?tqskip1=1&tqtime=0923
http://www.thursdaysclassroom.com/13oct00/Act4hands.html - Practice measuring degrees in the sky!
http://www.thursdaysclassroom.com/13oct00/images/protractor.gif
---
Write Your Name:
Click on the arrow to return to the Main Page